July 6, 2015 at 11:14 pm
#41251
Golden
Well, the apartment building from the other thread is located in San Francisco, so you should all come here. Plus I can see it from my bed in the dorms. In fact, I can see it right now. Not a lot of fog today!
Seriously, if you're in SF on the weekend, I could probably be there in two hours tops. And that's only because BART can be pretty slow sometimes.
Anyway, travel! I have a pretty big trip coming up this fall. And by "pretty big" I mean I'm studying abroad in London for three and a half months. That's the reason I started college in late June — the program I'm in requires you to take summer courses to be able to go in the fall. I think it's a fair trade-off.
There's about 50 of us going. We actually have a pretty good group! I've been getting along with everyone thus far, at least. It'll be interesting once we get to London though, since we'll all be over the drinking age there (I still can't drink because of the medication I'm on, but I wouldn't really want to anyway).
I've been to London once before, but that was a full decade ago when I was eight. I also went to Scotland on that trip, which was awesome. Beyond that, I've been to Denmark, Sweden, Finland, Germany, Estonia, Russia, Italy, Vatican City, the Bahamas, Canada (for a few hours), and a whole ton of US states. (Not positive about Arizona, though. I've definitely been to the airport there, but I can't recall if I went outside)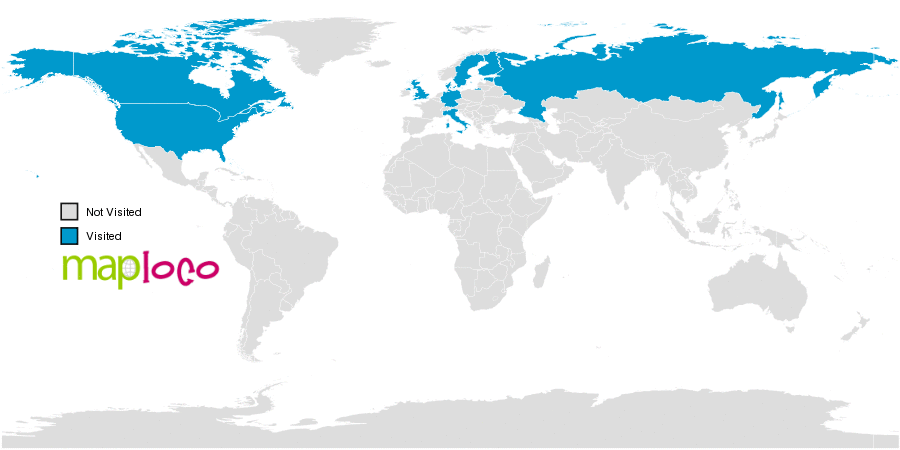 I love that all of Russia gets colored even though I never left St. Petersburg.